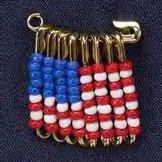 Safety Pin Flag
Michaels Arts and Crafts Store
Show your true colors with this simple to make flag pin.
Approx. Crafting Time: 30 minutes
Materials List
Your Choice Of:

E beads, blue , 20

E beads, red , 28

E beads, white , 24

Safety pins, 1½-inch , 9
Cost of each project will vary depending on materials used.
Instructions:

Place beads on eight safety pins as shown on photo. Each safety pin will use nine beads.

Open last safety pin. Arrange beaded pins on safety pin as shown in photo, pushing them onto the section of the pin that doesn't open.