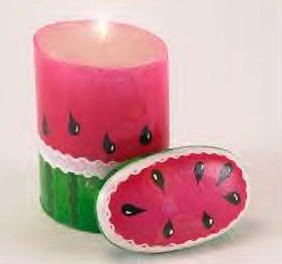 Watermelon Soap and Candle
Michaels Arts and Crafts Store
These unique goodies look good enough to eat! Make this watermelon set to freshen up a kitchen or bathroom.
Approx. Crafting Time: 2 hours plus drying time
Materials List
Delta

Candle and Soap Colors™, Black

Candle and Soap Colors™, Bright Green

Candle and Soap Colors™, Deep Green

Candle and Soap Colors™, Red

Candle and Soap Colors™, Varnish

Candle and Soap Colors™, White
Your Choice Of:

Candle, pillar

Paintbrush, No. 3 round

Paintbrush, liner

Soap, bar

Sponge wedges
Around the House:

Disposable plates

Paper towels
Cost of each project will vary depending on materials used.
Instructions:

Wipe soap and candle with soft cloth. Apply a coat of varnish to the surface of the candle and soap to be painted. Allow the varnish to dry.

Pour out a puddle of Red on the palette. Dip a sponge into the paint and with an up and down pouncing motion paint the top 2/3 of the candle. Apply a second coat as needed after the first coat has dried. Paint the top of the bar of soap Red.

With a clean sponge, paint a ½-inch stripe of White next to the red on the candle and soap. Paint the remainder of the candle and side of the soap Bright Green. After it has dried paint stripes in Deep Green with the edge of the sponge.

Paint wavy Bright Green lines between the green stripes in Bright Green.

Paint wavy White lines with the liner brush on both sides of the white stripe.

Paint the seeds in a teardrop shape in Black with the round brush. Add a white highlight line with the liner brush and White.

After all the paint has dried varnish the painted surfaces.