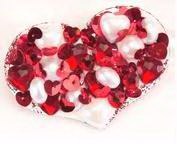 Glitzy Heart Pin
Michaels Arts and Crafts Store
This Valentine's Day, put on the glitz and let your love sparkle.
Approx. Crafting Time: ½ hour
Materials List
Crafting Expressions

Pearl Cabochons, assorted sizes

Rhinestones, Red, assorted sizes
Mark Enterprises

Mrs. Glue™
Sulyn Industries

Magik Glitter™, Red
Your Choice Of:

Acrylic paint, white

Heart, wooden

Paintbrush

Pin back

Sequins, red, heart-shaped
Around the House:

Disposable plates

Newspaper

Paper towels
Cost of each project will vary depending on materials used.
Instructions:

Cover work area with newspaper. Pour a little bit of white paint on the disposable plate.

Using the paintbrush, paint the wooden heart white. Let dry.

Using Mrs. Glue adhesive, glue rhinestones and pearl cabochons onto the wooden heart.

In areas where wood is showing, glue heart sequins using Mrs. Glue.

When rhinestones, pearls, and sequins are dry, trace the edge of the heart with red glitter glue.

When the glitter glue is dry, attach pin back to undecorated side of the wooden heart.