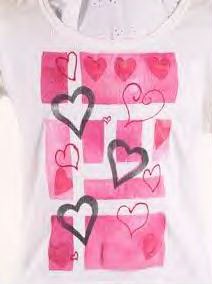 Heart Block Shirt
Michaels Arts and Crafts Store
This stylish heart shirt is easy to create and packs boutique pizzazz.
Approx. Crafting Time: 20 minutes plus drying time
Materials List
Your Choice Of:

Fabric paint, black

Fabric paint, crystal glitter

Fabric paint, dimensional, red

Fabric paint, pink

Fabric paint, red glitter

Fabric paint, rose

Fabric paint, white

Foam stamps, assorted hearts

Masking tape

Sponge roller

T-shirt, white
Around the House:

Cardboard covered with plastic

Disposable plates

Paintbrush, old

Paper towels

Water container
Cost of each project will vary depending on materials used.
Instructions:

Use masking tape to tape off different size squares and rectangles on your shirt. Refer to photo for placement. Press masking tape along edges to seal completely.

Pour puddles of pink, white and rose fabric paint onto disposable plate. Roll sponge roller through paint and roll back and forth to distribute paint on roller. Roll color into blocked off areas of shirt. Reapply paint as necessary to cover block area. Don't over blend the colors.

Using scruffy old brush, stipple additional white paint onto blocked areas randomly to lighten. Randomly brush blocked areas with crystal glitter.

Apply red glitter paint to foam stamps and randomly stamp in blocked areas. Allow to dry.

Remove tape. Apply black paint to large foam heart stamp and stamp over edges of the blocks, referring to photo for placement. Draw heart outlines using red dimensional paint.