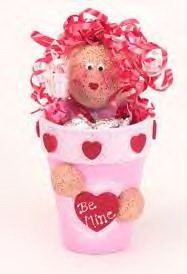 Valentine Kisses Candy Pot
Michaels Arts and Crafts Store
Create this whimsical candy container in minutes using Plastifoam balls and an ordinary flower pot.
A pre-made ribbon bow are the curly locks for this Valentine sweetie!
Approx. Crafting Time: 30 minutes
Materials List:
Craf-T Products

Decorating Chalk, Pink
DecoArt™

Americana® Acrylics, Baby Pink

Americana® Acrylics, Flesh Tone

Americana® Acrylics, Titanium White

Americana® Acrylics, True Red
Lara's® Crafts

Heart, 1¾-inch

Hearts, ¾-inch , 7
Loew-Cornell®

Brush Tub II®

Comfort Handle Paintbrush, No. 3370, No. 10/0 Liner

Comfort Handle Paintbrush, No. 3550, 1-inch Wash

Sea Wool Sponge
Syndicate Sales, Inc.

Plastifoam™ Ball, 1½-inch

Plastifoam™ Ball, 2-inch
Your Choice Of:

Candy kisses or similar candy

Clay pot, 4 inch

Curly ribbon bow, red/white

Glue gun, lo-temp

Glue sticks, lo-temp

Paper krinkle, red

Scissors, straightedged

Wiggle eyes, 4 mm , 2
Around the House:

Disposable plates

Knife, serrated

Paper towels
Cost of each project will vary depending on materials used.
Instructions:

Using the serrated knife, cut the 1½-inch Plastifoam™ ball in half. Paint the 2-inch ball and the 1½-inch ball halves Flesh Tone. Let dry.

Paint the rose pot Baby Pink. Sponge Titanium White on the rim and at the center front of the pot.

Paint the wood hearts True Red. When dry, paint "Be Mine" on the large heart with Titanium White.

Glue wiggle eyes on the head, then rub the cheeks with Pink chalk. Paint the mouth with True Red.

Glue the small True Red hearts around the pot rim. Glue the large heart at the center of the pot.

Glue the two ball halves (hands) at each side of the heart.

Press the head onto the pot rim. Remove the head, apply lo-temp glue to the rim, then press the head back in place.

Remove the self-stick paper backing from the bow. Use lo-temp glue to apply the bow to the top of the girl's head. Distribute and glue the spiral curls of the ribbon around the head.